Meat Tarts With White Sauce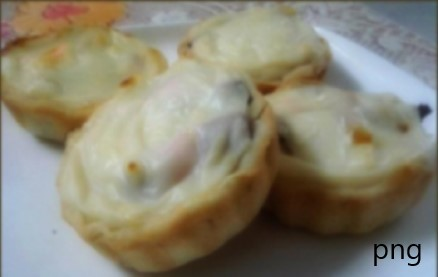 Ingredients:
Dough: 
1½ cups flour
½ tsp salt
½ cup chilled butter pieces
4-5 Tbsp cold water
The filling:
Cooked minced meat (or chicken pieces), any ripe vegetable cut into cubes, White sauce, grated Parmesan or Mozzarella cheese
Preparation & Cooking Method:
Mix all dough ingredients in a bowl until they make firm dough. Set aside in the refrigerator for an hour at least in order to shape it easily.

Spread the dough on a lightly floured work surface and cut into circular shapes and then spread in medium mold.

Put adequate amount of the filling with the minced meat in the dough, and spray the white sauce on top, and sprinkle with grated cheese on the surface.

Bake in an oven of 180 centigrade for 30-45 minutes.
White Sauce :
Ingredients:
1 full tbsp flour
1 tbsp butter
2 cups milk
1/2 tsp salt
1/2 tsp black pepper
Peparation & Cooking Method:
Braize the flour and butter until frothy. Then add the rest of the ingredients, stirring all the time so that there are no lumps. Cook until thick and saucy. 

For a cheese sauce, add 1/2 cup grated cheese.
TIP: If you find some lumps, whisk it using a wire whisk.